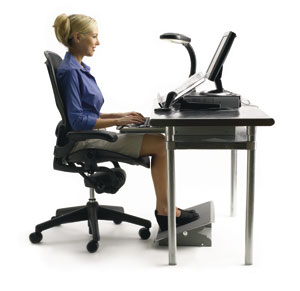 The Importance of Good Ergonomics During Computer Usage
Ergonomics is a special interest area of mine, so I'm going to try to resist the temptation to make this post into a thesis paper. I've found over the course of my career that when treating someone with spine or extremity pain that works a desk job, the patient's outcome is much better and their treatment time is much shorter when we address their desk setup within the first few sessions of PT. This usually involves making a visit to their workplace to observe their workstation. If a patient's treatment is the very best they can hope to receive, but they're spending their 8+ hour workday in a poor work position, it will take them a lot longer to get better.
For example, let's say a PT is treating a patient with neck pain. During the evaluation, the PT identifies which muscles are tight, which are weak or strong, how their spinal segments are moving, and so on. A regimen is initiated to address these problems and the patient is given a short home exercise program to perform a few times each day. No matter how hard the patient and the PT work at improving their musculoskeletal balances, it may be a losing battle if the patient spends hours each day with poor neck and shoulder posture at their desk.
The changes we suggest are rarely difficult or expensive. Our suggestions usually consist using a ream of paper or two to adjust monitor height, a platform for under the feet if the chair is too high, or a towel to cushion the hands and wrists if the keyboard position looks awkward. The most expensive thing we sometimes recommend is a new chair. I have a favorite one that our local Office Max carries which costs about $125; a small price to pay compared to the pain and expense of a nagging problem that won't go away.
Sometimes we can miss a huge piece of the puzzle if we're not looking for it. What follows is one of the most extreme examples I've seen of a visit to a patient's office being an invaluable part of their recovery. A patient came with pain in the hamstring which had been nagging her for over 8 months. She had been through PT, had several injections, acupuncture, massage therapy, and many other self-treatment modalities. The patient's physician suspected that her job as a receptionist may have been preventing her symptoms from improving. I went to her office and inspected her workspace. She had a standard desk, keyboard, and computer monitor, as well as a nice comfy-looking chair that had arm-rests, wheels, and all the bells and whistles I like in a chair (hint: everything is adjustable). The office was carpeted, and the patient's chair had a set of 6 wheels. There was a large plastic platform under the chair to make it easier to roll back and forth throughout the day.
I was actually at a loss to what might be causing her hamstring problem; that is until her co-workers began to speak up. They shared with me that the building was collapsing in the back and said that the floor was angled about 14 degrees towards the back of the building. They even set a marble on the floor, and sure enough, it rolled back towards the store area behind my patient's desk. Bingo! So, as my patient was sitting at her desk looking towards the front door, she had to use her hamstring muscles to pull her feet towards her chair. The result of this was that she didn't roll away from her desk throughout the day. Can you imagine working on a slope facing the higher end, trying to keep your rolling chair from sliding downhill? No wonder her hamstring wasn't healing. To fix this problem for the patient, we got rid of the plastic sheet and put a piece of Velcro on every-other chair wheel. After we made these changes, the patient was able to sit comfortably at her desk and her hamstring pain resolved in about 2 weeks without other intervention.
If you're having any pain in your spine or extremities and you feel that your work posture may be contributing, if your symptoms tend to be worse at the end of your workday, or if working at a desk has become very uncomfortable, call us to schedule a free consultation or see your doctor and ask for a prescription for physical therapy.
image courtesy of www.computershopper.com